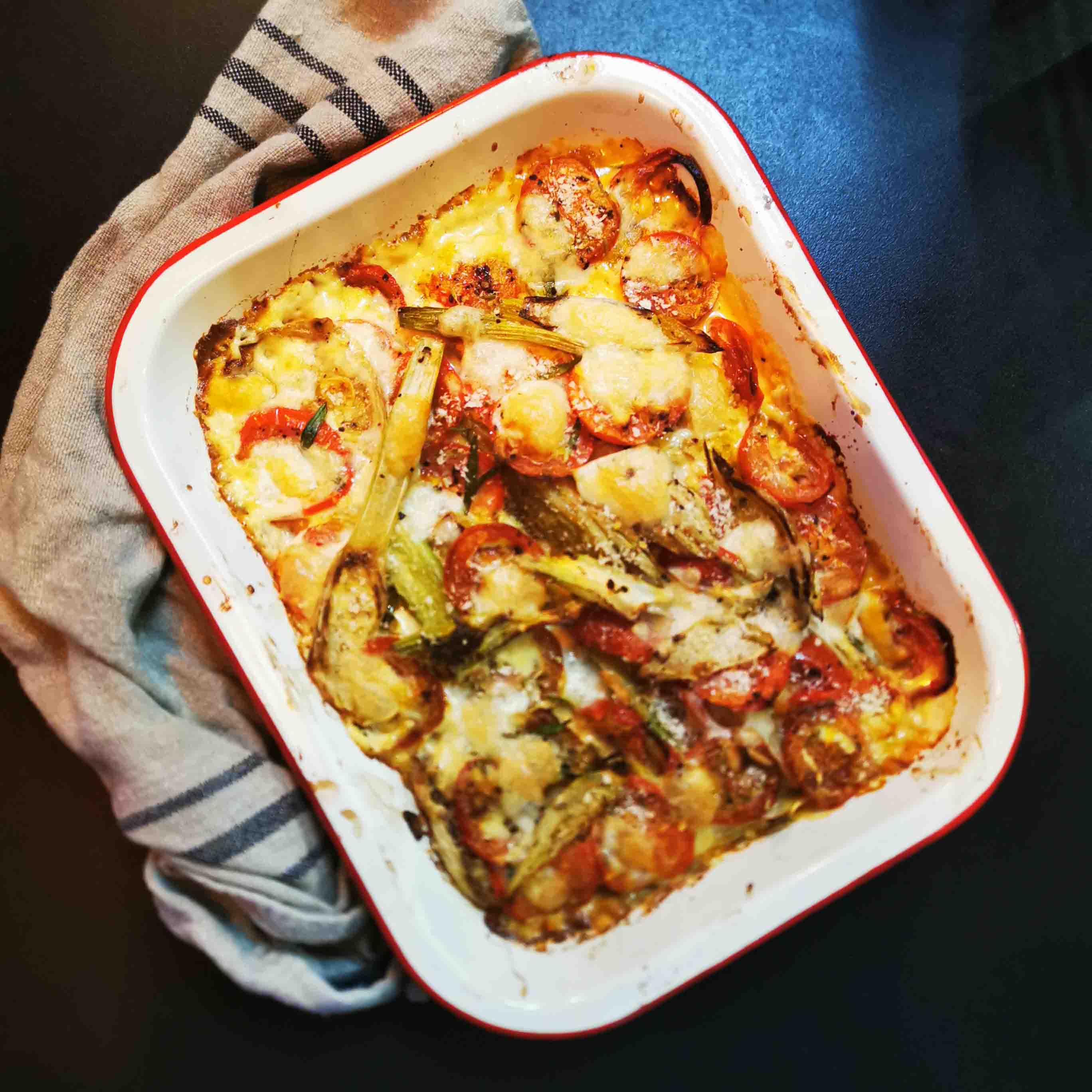 It's my favourite time of the year for food - the Angela Langford HQ veggie plot is fit to bursting with salads, kale, cabbages, beetroots and fennel - whilst in the greenhouse, tomatoes are ripe, plentiful and at their juicy best.

Here in Pembrokeshire, the month of September has always been a heady mix of warm late Summer days, followed by cooler, darker evenings that promise the return of Autumn once more - so meal times are usually a last minute flurry of action, cooking what we have in the garden and totally dependent on the weather outside!

But if it is sunny or cool outside, one dish that can serve both seasons just the same is the good old gratin - and this recipe for a fennel & tomato gratin is a favourite of mine.

Make it as a wonderful main course and this would be lovely for lunch with barbecued mackerel or sea bass. Or it can be made ahead, kept in the fridge and re-heated in the evening with some grilled sausages and lashings of mustard.

Simple, quick and delicious.
My Fennel & Tomato Gratin - serves four as a side and two as a main...

3 tablespoons of olive oil
4 large bulbs of fennel
2 cloves of garlic – crushed to a paste
4 or 5 medium sized juicy, ripe tomatoes, cut into thick slices
Sprig of tarragon (optional)
zest of ½ lemon
100ml white wine (or 50ml pastis, pernod or any aniseed liqueur)
100ml double cream
100g grated parmesan, gruyere, compte (or a mix of all three if you prefer!)
large pinch of salt & pepper

Heat your oven to 180C fan (200C non fan).

Cut the fennel lengthways into slices about the thickness of a pound coin and season with salt & pepper.

Heat the oil in a frying pan and add the fennel slices and saute gently until golden and beginning to soften – turn them over to cook on both sides. You will need to do this in batches.

Arrange them in a single layer in a baking dish and then add the tomato slices – putting the tomatoes into any gaps in the fennel or over it.

In the frying pan that you cooked the fennel in, add the garlic and gently cook through (but do not allow it to get brown!).

Turn the heat up and add your white wine (or aniseed liqueur) and let it bubble for a minute to reduce the liquid, scraping the bottom of the pan with a wooden spatula to get all the lovely flavours from the fennel and garlic.

Take off the heat, add the double cream and lemon zest and then season with salt, pepper and the tarragon (if using) and stir to mix everything together.

Pour over the fennel and tomatoes in your baking dish and then sprinkle over the grated cheese.

Bake in the oven for 20 – 25 minutes or until the cheese is bubbling and golden.

Whether this is for for lunch with fish, or for dinner with meat - make sure to serve with lots of crusty bread, to mop up the juices.

Enjoy!